New Magnum Blender
All-metal drive coupling is built to last.
The container part has the 1.9L large container made of the stainless steel that is installed the two blade made of the stainless steel in the normal equipment.
Three min. timer with automatic shutoff.
Removable dosing cup that the operator easily add liquid sample while blending without spillage.
Please use it for the mixture and the blending of liquid sample.

Sorry Japanese only.
You can download Acrobat Reader here.

Specifications
Model Number
MB-400
Dimensions
W170×D210×H530mm (with dosing cup)
Power source
AC100V、50/60Hz
Power consumption
740W
Rotational speed
Low: 18,000 rpm Hi: 23,000 rpm Pulse: 23,000 rpm
Timer
10 sec.~3min.
Weight
4.3kg
Capacity
1.9L
Accessories
1.9L SUS container with the cutter
Price
DISCON

Option
Replacement parts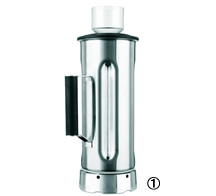 P/N
Product name
Price

1:

PN-6400
1.9L SUS container
(with the cutter)
¥47,000
※All prices are indicated excluding tax.