Super Blender
It is the large-capacity Blender with stainless container of 3.8L for emulsification, mixture and crushing.
Because four blades made of strong stainless steel are equipped, it crushes and emulsified mixture efficiently in a extremely short time.
It is the large-capacity Blender that is convenient for mass sample making.
Because the rotation axis is the neoprene clutch system, the sound while operating is not anxious.

Sorry Japanese only.
You can download Acrobat Reader here.

Specifications
Model Number
SB-990
Dimensions
228×240×558mm(H)
Power source
AC100V、50/60Hz
Power consumption
650W
Rotational speed
11,500~15,000rpm
Weight
10.3kg
Capacity
3.8L
Accessories
3.8L SUS container with the cutter
Price
¥297,000

Option
Replacement parts (3.8L SUS container)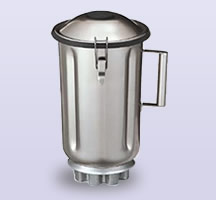 P/N
Product name
Price
PN-6990
3.8L SUS container
(include the cutter)
¥132,000
※All prices are indicated excluding tax.