LAB Brush
It is the unique washing brush for exclusive use of glass containers for laboratories of BRUSHTECH Inc..
Because the important part of brush is made of the new structural foam with the very excellent performance, it is the strong sponge brush that lasts about ten times as much as compared with old brush.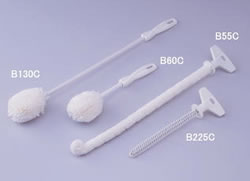 B55C (All-purpose Brush)

It is the all-purpose brush of variable shaping that fits various container such as narrow neck bottle, jar and Erlenmeyer flask.
Size : 430mm×20mmø
Bottom : 30mm
Price : ¥1,450
B60C (Beaker Brush)

Brush for beaker and jar.
Size : 250mm×80mmø
Price : ¥1,200
B130C (Tall Beaker Brush)

Brush for cylinder and tall bottle
Size : 480mm×80mmø
Price : ¥1,400
B225C (Test Tube Brush)

Brush spreads apart to fit all test tube sizes from the smallest to the largest.
Size : 230mm×20mmø
Price : ¥800
※All prices are indicated excluding tax.
To Other equipment Product List