High Recovery Vial for Agilent
High Recovery Vial for Agilent
The Vial for Autosampler Diameter:12øx32mm Capacity:1.5mL
It is the vial to condense with the form of cone and the capacity of cone part is 35μL(0.035mL).
Because the bottom is form of cone, it is the design to maximize the sample collection and to minimize the dead volume.
Because it is possible to put small amount sample in and out, the micro insert tube is unnecessary.
Because an opening part is the wide neck design, it is easily possible to put the sample in and out, and to washing.
High Recovery Vial
Diameter:12øx32mm Capacity:1.1mL
| P/N | Reference Number | Product name & Specifications | Quantity | Price |
| --- | --- | --- | --- | --- |
| 11090620 | 5183-2030 | Clear High Recovery Vial | 100/pk | ¥13,000 |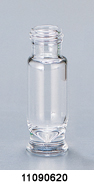 ※All prices are indicated excluding tax.