Wonder Blender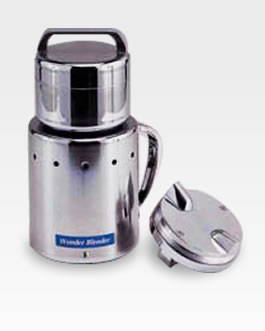 This crusher has the super-high-speed rotation and strong motor power of 700W. So it crushes instantly from hard sample to soft samples such as crude drugs, cereals, medicinal herbs, minerals, ceramics, chips of wood and clothes etc. if they are dry.
Even the sugar-coated pill and the tablets with coating film can be crushed neatly together with the film.
The main body is made of the metal, the container part is made of the stainless steel that resists rust, and the crush cutter is adopted in SUS420.
※Please use the nitride processing cutter for crushing minerals, ceramics, and glasses.

Sorry Japanese only.
You can download Acrobat Reader here.

Specifications
Model Number
WB-1
Dimensions
134ø×270mm
Power source
AC100V、50/60Hz
Power consumption
700W
Rotational speed
25,000rpm
Weight
3.6kg
Capacity
150mL
Accessories
Minute crush cover, Cleaner brush
Price
¥96,000

Data
Crush data
| Sample | Bulb of Aconitum | Cloth(cotton) | Ceramics |
| --- | --- | --- | --- |
| Amount of processing | 50g | 5g | 50g |
| Operating time | 30seconds | 30seconds | 30seconds |
| Crush state | Powder | cottony | Powder |

Option
Option for WB-1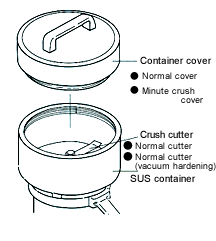 P/N
Product name
Price
PN-W01
SUS container
¥18,000
PN-W02
Normal cover
¥20,000
PN-W03
Minute crush cover
¥22,000
PN-W04
Normal cutter
¥3,500
PN-W04N
Normal cutter(vacuum hardening)
¥9,000
PN-W06
Felt O-ring
(Inside and outside set )
¥1,000
PN-W52
Proof cover
¥1,800
PN-W53
SUS connection screw
(3 or 4 piece)
¥1,000
UP-49
Cutter removable kit
¥6,000
※Notice

Because there are for old model and for new model, please mind these parts.
Related product

Wonder Crush/Mill
It is the model of 200mL capacity larger than WB-1 and it is equal crushing ability with WB-1.


D3V-10
It is the model of 380mL capacity that is maximum in Wonder series and it is equal crushing ability with WB-1.

New Power Mill
It is the crusher that can easily detach the crushing container different from the Wonder series.


Absolute Mill
This model is the super-high-performance crusher that can also easily detach the crushing container and is equipped with the tough motor.
※All prices are indicated excluding tax.